Trust Services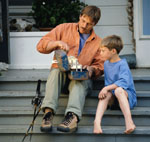 You can feel confident and in control of your financial decisions while working with a trust professional with investment expertise to provide and implement a customized investment plan. We at Community Bank of Lawndale consider you and your family's welfare our responsibility, and strive to provide the most professional investment services available. Keeping a personal investment program in good working order requires time and effort. At Community Bank of Lawndale we understand the demands of investment supervision; it is our business. The Community Bank of Lawndale team is carefully regulated by both federal and state law and is known to stand out among its peers with superior client-focused service. Our many years of experience in delivering trust services can help you evaluate alternatives and make the decision with which you'll feel most comfortable.
Email us at info@cblbank.com for more information on any trust service, which might be of interest to you and your family. Or visit us on the web at http://www.cblbank.com.
SERVICES
Whether you need full investment management, estate planning or custodial services, our Trust Department staff can provide you with the knowledge, experience and commitment it takes to get the job done.
Advisor Directed
Charitable Trust
Custody Services
Estate Services
Living Trust
Retirement Services
Investments Services
Advisor Directed
In today's ever changing financial world, some individuals wish to name Community Bank of Lawndale as trustee to assist with estate planning and trust services, but wish to use an independent investment advisor.
Having an independent advisor while using the experienced fiduciary services of Community Bank of Lawndale is no longer a competitive dilemma. By dividing responsibilities and using a discounted fee schedule we are able to accommodate our clients in this dual relationship.
Charitable Trust
If you are considering a major gift to your favorite charity, a Community Bank of Lawndale officer can guide you through this process. This type of planning is becoming more and more popular with our customers as a way to be generous to a favorite charity as well as save on income and estate taxes.
Custody Services
A Custodial account is ideal for individuals wishing Community Bank of Lawndale to serve as a full-time financial secretary but not assist with investment decisions. As Custodian we're equipped to handle every conceivable chore relating to the care and handling of investments. These include asset safekeeping and accounting; income collection and remittance; security transactions at reduced rates; and record keeping for tax purposes. We also clip coupons, present matured or called bonds for redemption, keep track of conversions and other key duties.
Estate Services
An executor is named in your will to administer your probate estate. Community Bank of Lawndale can act as executor and handle all aspects of your estate administration.
The importance of choosing your executor is emphasized by the many duties that an estate representative must perform. These duties range from probating the will and receiving "letters testamentary" from the court, to taking possession of personal property and arranging for the support of the decedent's family. Advertising must be done to bar creditors' claims after a specific date and the executor must investigate all claims to determine their validity.
Death tax returns must be filed and assets might need to be sold to pay these taxes. A final audit and release of income tax returns filed during the decedent's lifetime has to be done and finally the executor must prepare final accountings to be presented to the court.
The role of executor is not one to be taken lightly. These duties should be delegated to a full time impartial professional, rather than a family member of friend, who is trained in this time consuming, labor intensive role.
Living Trust
A living trust is one of the most flexible estate and financial tools available. It provides custody and investment management services to you and your family. It also adds a new dimension–potential estate tax savings. A living trust account can create a financial blueprint for the maintenance and distribution of your estate and offers stand by protection in the event of illness or incapacity. Because the vast majority of living trusts are revocable, you may make changes in the account or terminate it at any time. Your trust can continue after your death, guaranteeing your family all the investment and administrative benefits available.
Trust fees will vary depending upon the duties to be performed and the size of the trust. Generally, the annual charges are well below one percent of the value of the assets in the trust. This makes trust fees very competitive with most alternatives. In addition, neither mutual funds, brokers, nor investment advisors can provide the personal services of a trustee.
Community Bank of Lawndale is careful when investing trust assets. We will not speculate or take undue risks with assets held and managed for you. Historically, we have provided competitive investment returns managed with a high standard of quality and safety.
We live in a high-tech world where computers help us keep records, compare investments and analyze tax alternatives, but when funds are placed in a trust, the customer deals directly with his assigned trust officer. The result is a close working relationship. The trust officer becomes a family financial advisor whose goal is not only to respond to needs, but also to anticipate them.
Retirement Services
Whether you own a business or are an individual participating in a company retirement plan, Community Bank of Lawndale recognizes the importance of selecting the correct program. When choosing an IRA, SEP IRA, Simple IRA, Roth IRA, Profit Sharing Plan, or 401(k) administrator, our team of knowledgeable professionals can provide the facts, speed up the process with pre-approved documents and perform any required IRS filings. A broad array of investment options is available as well as state-of-the-art technology and reporting.
Community Bank of Lawndale is also prepared to accept rollovers transferred from other institutions. Our trust specialists can assure your transfer is accomplished in a timely manner and within the tax law guidelines. The same high quality investment products available to Personal Trust and Investment Management accounts are also available to our IRA Rollover customers.
Investments Services
An investment management account has broad appeal. It can be of great help if you want complete investment management by a skilled professional.
After a discussion with a portfolio manager and identification of your risk tolerance, timeline, income needs and expectations, your account is managed according to your investment mission statement. You retain title to all the assets in your account along with the right to approve or disapprove our investment recommendations. Many of our customers authorize us to carry out our recommendations, requiring only that we notify them of changes in their portfolio. Other customers want to discuss changes before they are implemented.
Investment management also includes asset safekeeping and accounting, income collection and remittance, automatic cash management, security transactions at greatly reduced rates and asset-based fees versus commissions generated by transactions. You always have ready access to your account and may add or withdraw securities, or even terminate the account at your discretion.
List of funds
Morning Star
American Funds
American Century Funds
Baron Funds
Brandywine Funds
Dodge and Cox
Domini Funds
Dreyfus Funds
Evergreen Investments
Federated Funds
Fidelity Funds
Goldman Sachs
Harbor Funds
Janus Funds
Managers Fund
Franklin Templeton Funds
Northern Funds
Oakmark Funds
Oppenheimer Funds
Pimco Funds
Quaker Funds
Scudder Funds
T. Rowe Price
Tweedy Browne Funds
Vanguard Funds
Victory Funds
PLEASE CONTACT US FOR ADDITIONAL INFORMATION. WE LOOK FORWARD TO SERVING YOUR PERSONALIZED NEEDS.