Community Bank of Lawndale
Corporate Offices
1111 South Homan Avenue, Chicago, Illinois 60624
Phone: (773) 533-6900, Fax: (773) 533-8215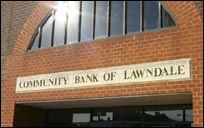 Community Bank of Lawndale is a full service financial institution committed to serving the community. Established in 1977, Community Bank of Lawndale is located on the westside of Chicago. CBL has a long history in the North Lawndale community serving as the principal provider of credit services in a historically under-banked area. Our commitment to serving the community has been recognized by the United States Treasury Department by certifying our bank as a Community Development Financial Institution. Some of our specialized services include providing ETA accounts, IDA accounts and lending to churches and other not for profit corporations. CBL provides quality financial services to its primary and secondary markets, while stimulating growth for our customers, employees, shareholders and community.
Community Contributions
Our Commitment to Community
Hours and Locations
Privacy Policy